VTC Veteran Tax Credits /Sales Platoon Partnership – Press Release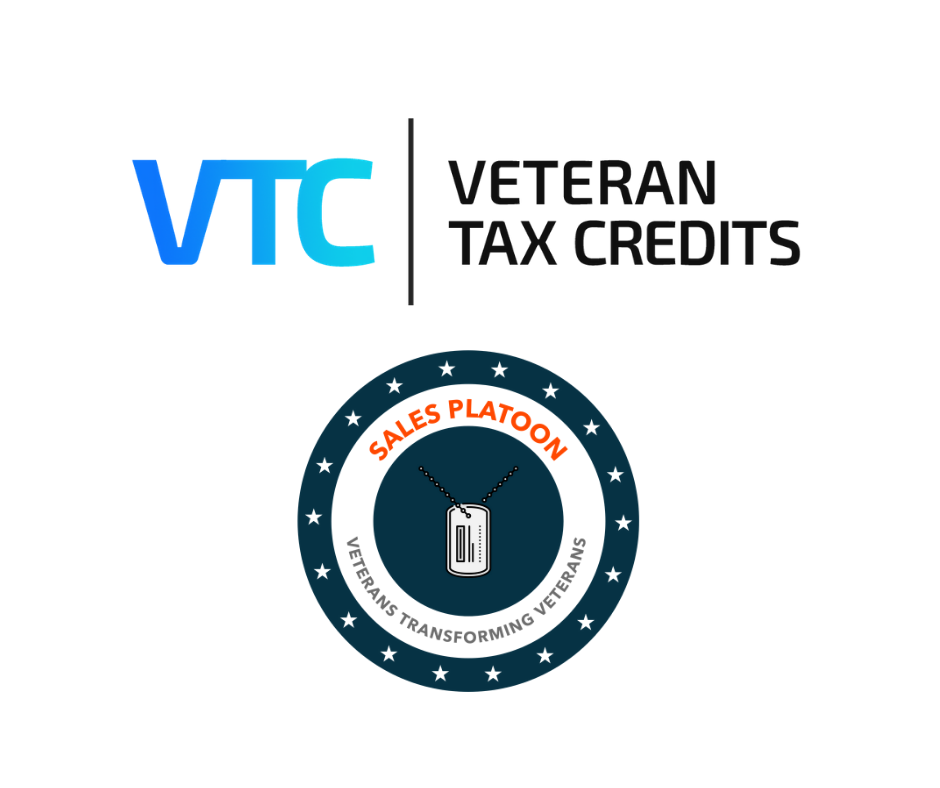 FOR IMMEDIATE RELEASE

April 27, 2020
VTC Veteran Tax Credits and Sales Platoon announce partnership
VTC Veteran Tax Credits, a national company that partners with both the Veteran and employer to certify and leverage Veteran Tax Credits, part of the Work Opportunity Tax Credits (WOTC) program and Sales Platoon, an Illinois-based company focused on sales training and placement for transitioning military service members, are excited to announce their new partnership.
Through the partnership, the two organizations will promote the benefits of hiring highly-skilled Veterans in order to increase the number of companies who hire them. Additionally, they will educate both Veterans and employers on the benefits available to them through the WOTC, which gives employers up to $9600 per Veteran hired to reinvest back into their business.
"Although we approach it from different angles, our missions are very much aligned – to transform the perception of our Veterans as a population in need, to one in demand.  Craig and his team at VTC Veteran Tax Credits, have streamlined a complicated system, simplifying the process for Veterans to certify their status and providing businesses with a streamlined platform to track and receive tax credits" said Raleigh Wilkins, Founder of Sales Platoon.
Sales Platoon's unique boot-camp model combines 14 weeks of sales training and apprenticeship at no cost to the veteran, de-risking critical sales hires for participating companies.  VTC's unique tax credit certification further reduces the cost basis for acquiring Sales Platoon's talent, while also providing businesses access to VTC's database of carefully curated prospective candidates across the full spectrum of military experience.
"Fully preparing our Veterans to enter the civilian workforce takes a team" said VTC's CEO, Craig Washburn. "One of the most financially rewarding careers available to our transitioning leaders is the sales profession. I am so honored to be partnering with Sales Platoon in this endeavor. Another Veteran Owned Small Business giving back by preparing Veterans that want to enter the sales profession with the tools to not only succeed, but thrive!
Veterans or companies interested in utilizing the services of either Veteran Tax Credits or Sales Platoon can find out more through their respective websites, https://www.veterantaxcredits.com/   and https://www.salesplatoon.org/
 About VTC Veteran Tax Credits
VTC's mission is to help both Veterans and employers leverage the Department of Labor's Work Opportunity Tax Credit (WOTC) program. The program allows employers to benefit by selecting candidates from target groups, such as Veterans, disabled Veterans and other non-Veteran groups. Employers can earn up to $9600 per Veteran hired. Our team partners with both the Veteran and employer to connect, educate and create a successful outcome for all. In addition to the tax credit processing, VTC provides a way to source pre-certified Veterans. Over $1 billion in tax credits are dispersed each year by the WOTC program.
About Sales Platoon
Sales Platoon focuses on leveraging highly skilled, resilient, dedicated, adaptive and disciplined men and women from active duty military to a career in sales. Sales professionals with 20+ years of experience teach Veterans the skills necessary to thrive in a modern sales culture and speak the language of the business world in this highly customizable program. They have onboarded thousands of reps across a wide variety of industries.    
Their program enables trainees to perform at a higher level, ramp quicker and obtain quota faster by learning modern sales systems, techniques and processes. Sales Platoon provides candidate access to organizations seeking high-quality, high-potential sales talent.