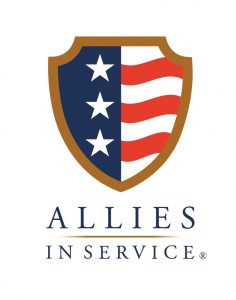 Vietnam Veteran and former Dallas Cowboys quarterback, Roger Staubach, founded Allies in Service to reach out to the veteran community by leveraging an all-encompassing network of support focused on employment. Allies in Service prepares job-seeking veterans and spouses in the DFW area for success by coaching them on vital employment search techniques, mentoring on military to civilian cultural differences, advocating on their behalf and connecting them with employers. By providing these essential resources, we serve our community of veterans, just as they have served us.
Currently, there are more than 350,000 veterans living in the Dallas/Fort Worth Metroplex and over 95,000 of those veterans are in Dallas County. The men and women behind these numbers will need the support of their community to ensure a successful transition. Allies in Service will continue to provide that support to Dallas area veterans and their spouses, allowing them to lead a life of success after service.
Our services are free to veterans, their spouses, and our community and employer partners.
https://www.alliesinservice.org/
---

Vets2PM helps Military Veterans become Project Managers, using our knowledge, skills, and decades of experience to inspire and train the Veteran for PMP and ACP credentials;  preparing them for reintegration into the civilian workforce by providing professional resume, interview skills, and social media savvy; and assisting in placing Veterans into meaningful, lucrative careers with companies that want to hire Veterans for their professional roles. We do so with integrity, commitment, and excellence. To accomplish this mission, we provide services to employers, including: Job Posting services, Candidate Database Subscription for on demand sourcing, PMaaS for short term / consulting projects, Traditional (flat fee) Placement services, Corporate Partnership, and Veteran Hiring Program optimization consulting.
---
The Invictus Project is a not-for-profit 501(c)(3) organization that is dedicated to improving the lives of veterans and first responders suffering from post-traumatic stress disorder (PTSD), traumatic brain injuries (TBI) and depression. We created this organization because we were patients first and have seen the impact that these treatments have had on the lives of those who had lost all hope of recovery.
The Invictus Project takes a diagnostics first approach to treating mental health disorders. Any patient that is treated by us or our partner organization's first receives a QSPECT brain scan, from our partner Cerescan, as well as a full blood panel to evaluate the metabolic processes of both the body and the brain. Following these diagnostic tests patients are assigned a personalized treatment protocol that is designed to address the underlying causes of their symptoms.
After treatment is completed each patient then receives a second battery of testing to evaluate the effectiveness that treatment has had on both their body and their brain.
The goal of this venture is twofold:
To improve the long-term quality of life for patients who have been suffering from PTSD, TBI and depression
To collect the treatment data and demonstrate that these treatment protocols not only create greater long-term patient outcomes but are also more cost effective than the current standard of care.
---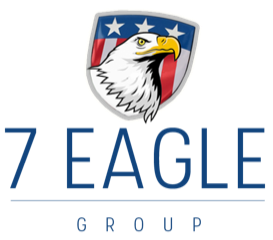 7 Eagle Group is the go-to talent source for hundreds of companies throughout the United States eager to hire military Veterans for direct hire and freelance positions.
Whether you are unemployed and in between jobs or currently employed yet open to better opportunities, 7 Eagle Group will serve as your Career Ambassador and provide the support that you need to reach your next opportunity.
We'll confidentially share your profile with leading recruiting firms and hundreds of hiring managers in your industry, and we'll contact you immediately when we uncover an interesting opportunity that meets your job requirements — i.e. industry, salary, location, responsibilities, etc. You can then decide if you'd like to pursue it.
Other benefits you'll enjoy for joining us…
Want to improve your marketability and earn an advanced degree or certification?  We'll recommend some of the best options for you to help you earn a higher salary and more responsibility.
Eager to brush up on your job-getting skills like networking, resume writing, and interviewing?  We'll email you insider tips that will help you impress any hiring manager and get more job offers.
Schedule a one-on-one coaching session with a 7 Eagle Group Ambassador. We can provide career guidance, help you role play for an upcoming interview, or critique your resume.  Whatever you need, we are here for you!
All of our services are always FREE to Vets. Our mission is to get you hired, and we NEVER let anything get in the way of that. Veterans First!
To learn more and connect with our 7 Eagle Group Veteran Ambassador, Sonya Metcalf, please go to https://7eagle.com/tax-credit/
---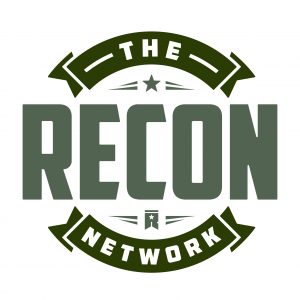 The RECON Network is a South Carolina-based company focused on purpose-based career planning, transition resources and consulting for military veterans and their spouses. The online RECON: Compass program provides a purpose-finding curriculum designed to walk veterans through setting their own mission and finding purpose in the next stage of life, while RECON Summit live events provide one-day conferences in cities across the U.S. In addition to these programs, The RECON Network provides tools and resources focused on leadership, career placement, education and entrepreneurial paths to purpose-based careers and an incorporated lifestyle with local communities—all with a focus on providing meaningful connections and opportunities to the veteran community.
---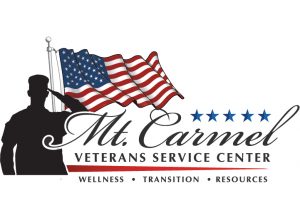 Mt. Carmel Veterans Service Center, located in the abundant military community of Colorado Springs, Colorado, provides transition and employment assistance, behavioral health and wellness, supportive services, connection to community resources and safe event space for veterans, military members and their families.   As a nonprofit, Mt. Carmel has directly impacted more than 6,426 unique clients in the Pikes Peak region through more than 36,567 client visits since it opened its doors in 2016.
The Transition and Employment team directly assists transitioning service members, veterans of all eras, and their family members in gaining meaningful employment and emphasized support for military spouses.  Behavioral Health and Wellness services include individual, group & couples therapy, no-cost therapeutic retreats and non-traditional therapies including trauma-focused yoga, PTS-focused art and photo therapy, tai-chi and more.  Supportive Services offer a hand-up to members of the veteran community experiencing crisis.  Mt. Carmel also provides a safe, multi-functional space to support groups and community partners.
---

HR Pros, LLC is a firm with three facets of business:  Executive Recruitment, HR Consulting and Career Coaching.   Founded by Deb Sutton, MS, SPHR, SHRM-SCP, HR Pros has been in business for over 15 years in the Southwest Florida area.
We offer contingency and retained recruitment nationwide specializing in Sales and Human Resources positions.  Our second facet is HR Consulting covering everything from HR compliance, writing employee policies and handbooks, compensation plans, benefit plan review and design, HR audits, training for Management and Supervisors and more. We also offer smaller companies a subscription service called HR Pros On Call – whereby we function as your remote HR department.
Our third facet is Career Coaching; assisting individuals with job search and placement activities.
We pride ourselves on a personal approach to business and call ourselves "heart hunters" not head hunters.  Check out our web site or give us a call – we would love to get to know you!
debsuttonhrpro@gmail.com  https://www.hrprosllc.net 941- 776-0996
---